20 mars 2013
3
20
/

03
/

mars
/

2013
14:21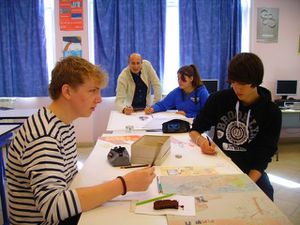 En cette "Année Colin", l'Institution Sainte Marie, de la Seyne sur Mer, a lancé un projet concernant la connaissance ou reconnaissance du père Jean Claude Colin. Il est bien modeste mais a pour but de faire découvrir le fondateur des pères Maristes et des laïcs.
Tous les 15 jours, nous nous retrouvons depuis le début de cette année scolaire à l'IS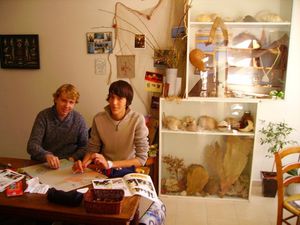 M afin de mettre sur des grands tableaux grâce à la peinture, au dessin, les quatre temps importants de la vie du père Colin.
Quelques photos ont été réalisées avec nos jeunes lors d'une sénace de travail. Pour ce faire, nous avons sollicité l'aide précieuse du professeur d'arts plastiques. Beau travail de collaboration!
C'est beau de voir ces jeunes de Première entrer dans le sujet et s'intéresser à l'oeuvre du père Colin... Au début de chaque sénace nous parlons de son parcours...
Le voyage à Rome pour marcher dans les pas de Colin, et par la même, suivre l'itinéraire qu'il a parcouru il y a environ 200 ans, a été une expérience complémentaire très enrichissante!
En fin d'année, nous prévoyons que les 4 panneaux soient accrochés dans un des couloirs de l'Institution.
Annette Macquet, Luigi Savoldelli sm
In this "Colin Year", Institution Sainte Marie la Seyne sur Mer initiated a project about knowing or discovering Fr Jean Claude Colin. That project is modest but its aim is to make people discover the founder of Marist Fathers and lay people.
Since the beginning of that school year at ISM, we have met together, every 15 days, in order to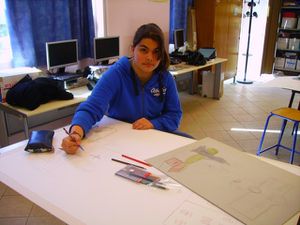 put on big paintings, on big drawings, the four important times of Fr Colin's life.
A few pictures of our young students were taken during a working session. To do so, we asked for the precious help from the Art Teacher. A fine way of collaborating!
It is nice to see these young Sixthformers getting to the heart of the matter and interested by Fr Colin's work... When we start working, we talk about his life...
The trip to Rome to walk on Colin's steps and therefore follow his path 200 years ago, was a very rewarding further experience!
At the end of the school year, we plan to hang the four panels in one of the corridors of the college.
From Annette Macquet, LuigiSavoldelli sm