3 avril 2013
3
03
/

04
/

avril
/

2013
09:31
Quand la pastorale se met au service de tous
Cette année deux temps forts ont été proposés à tous les collégiens de 4° du collège de Bu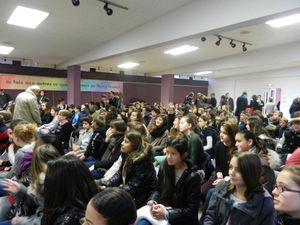 ry, l'un sur la fraternité et l'autre sur l'estime de soi.
A l'initiative de Sylvie Mathias, responsable vie scolaire, et d'Isabelle Renaudin, coordinatrice pastorale pour l'Ensemble Scolaire, en charge de la pastorale à ce niveau.
Un risque pris de rendre obligatoire pour tous les élèves de 4° deux temps d'aumônerie, le samedi matin entre 8h30 et 10h30!
Pari réussi, les jeunes en redemandent et les adultes aussi...
Le premier temps fort a réuni plus de 200 jeunes et 25 adultes autour de l'association Fratern'aide, née, à l'initiative de jeunes autour d'un de leurs enseignants, dans un établissement scolaire de banlieue, suite à des actes de violence. Cette association promeut dans les écoles, municipalités, associations, une méthode, en six maximes et "la règle d'or", pour vivre la fraternité en actes.
De nombreux enseignants, éducateurs, parents, se sont mobilisés pour les accompagner dans leur réflexion dont les fruits ont été accrochés à l'arbre de la fraternité.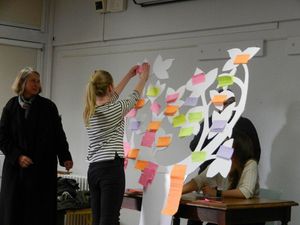 Matinée riche, chacun, jeune ou adulte en est ressorti "grandi", découvrant ou redécouvrant que le "nous" de la fraternité se construit sur un "je".
Les banderoles des maximes ont ensuite trouvé place jusque dans la salle du restaurant pendant un bon mois puis sont parties au collège du Rosaire pour le temps du Carême.
Marie-Annick Benoit, Chef d'Etablissement Coordinateur de Bury-Rosaire et Directrice du collège de Bury et du collège du Rosaire.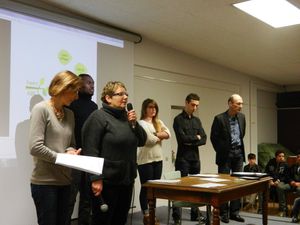 When Pastoral begins being at everybody's service
This year, two forums were proposed to the Thirdformers in Notre Dame de Bury's College, one of them was about brothehood and the other about self-esteem.
It was initiated by Sylvie Mathias, in charge of school life, and Isabelle Renaudin, Coordinator of Pastoral Care for the whole Bury-Rosaire School and in charge of Pastoral on the Third form.
We took the risk to have two periods of Chaplaincy compulsory for all Thirdformers, on Saturday morning between 8:30 and 10:30.
A great success, youngs and adults are asking for more...
The first forum gathered more than 200 young people and 25 adults about the "Fratern'aide" Association created, on the initiative of young students together with a teacher of theirs, in a suburban school, after v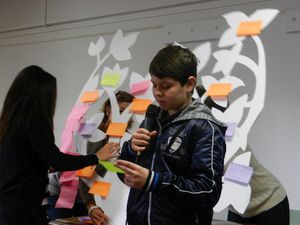 iolent acts. This association promotes in schools, town councils, and associations, a method in six maxims plus the "Golden Rule", to live brotherhood in acts.
Many teachers, educators, parents rallied the students to accompany them in their reflection, the fruits of which were hung up on the tree of Brotherhood.
A rich morning, everybody, young or adult, grew in "wisdom", discovering or rediscovering that the "we" of brotherhood is built on my "I".
Afterwards, the posters of the maxims found their place in the school dining-room during a whole month, and then, went to Le Rosaire College for Lent Time.
From Marie-Annick Benoit, Coordinator Head Principal of Bury-Rosaire and Principal of Notre Dame de Bury's College and Le Rosaire's College.