26 septembre 2012
3
26
/

09
/

septembre
/

2012
07:23
Le Chanel College de Dublin est heureux de vous annoncer qu'il a reçu les clés de ses toutes nouvelles installations sportives au Club du Parnell Gaelic à Coolock. C'est le fruit d'un long travail conjoint entre M. Mowlds (le Chef d'Etablissement) et son équipe, en accord avec les pères maristes, et M. Gleeson (Président du Parnell Gaelic).
C'est la classe d'Education Physique de M. Mays qui a eu l'honneur d'étrenner ces nouvelles installations (v/ photo)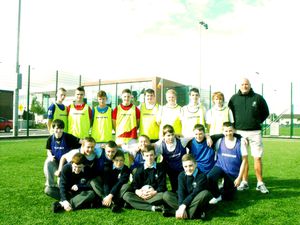 Cette nouvelle extension du club, pour une valeur de 22 millions d'euros, offre au Chanel College ce qu'aucune autre école d'Irlande ne peut avoir en matière d'équipement sportif et social. Dans le cadre de sa recherche de l'excellence, et grâce à ces nouvelles installations, Chanel College pourra continuer à promouvoir, développer et proposer son programme d'Education Physique parmi les meilleurs du pays.
Les nouvelles installations sportives comprendront:
- Trois terrains de jeux avec éclairage électrique, dont deux terrains tous-temps et un terrain gazon ("taille adultes"),
- un mur pour le hurley (sorte de Hockey),le football et le handball,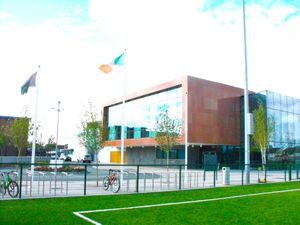 - une salle de gym toute équipée avec un centre de soin pour le sport, et des vestiaires,
- Un "Clubhouse" tout neuf avec salle de réception, bar, salle de jeux et salle à usage multiple,
- des salles de réunion,
- un parking pouvant accueillir plus de 150 véhicules,
Il y a, à Chanel College, de nombreux élèves qui ont de véritables talents (cachés), comme Ross Mohan, élève en 4°. C'est un prestigieux golfeur pour son âge, et il est parmi les meilleurs joueurs du pays. Il a remporté les séries du Leinster dans sa catégorie, et représenté l'Irlande en Angleterre lors du Trophée Reid .
Il a su faire preuve d'un fantastique jeu face à des compétiteurs de grande valeur dans le Championnat Open du Leinster.
Toutes nos félicitations à Ross et à sa famille et nous lui souhaitons de nombreux succès à venir!
D'après M. Mays, professeur d'Education Physique, Chanel College Dublin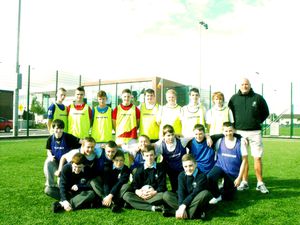 Chanel College are pleased to announce they have received keys to their new sport facilities at Parnell Gaelic club in Coolock. Hard work by Mr Mowlds (Principal) and his management team together with the Marist order and a shared vision of Mr Gleeson (Chairman, Parnell's) have created this state of the art facility.It is Mr Mays third year PE class who had the distinction of being the first class in the school to avail of the new facilities (see picture)
The new € 22 million club development contains the largest sports and social facilities that any school in the country would be proud of. Chanel College in its pursuit of excellence shall endeavour with these new facilities to promote, develop ans establish its Physical Education programme as among the very best available in the country.
The new development will include the following facilities:
- Three floodlit playing pitches: made up of two all-weather pitches and one full sized sand-based grass pitch,
- A hurling, football and handball wall,
- A fully equiped gym with a sports therapy centre and changing rooms,
- A modern Clubhouse which will include a reception area, a bar lounge, games room and large function room
- Meeting rooms,
- 150+ car parking spaces.
There are many students at Chanel College that hide their light under a bushel, one such student is third year Ross Mohan. A prestigious golfer for his age Ross is among the very best in the country. As an U13 Ross won the Leinster U13 series and represented Ireland in the Reid trophy in England.
As an U15, Ross produced a fantastic display against high quality opposition to secure victory in the Leinster open Championship.
We congratulate Ross and his family and wish him continued success.
Mr Mays, PE teacher, Chanel College Dublin