12 septembre 2012
3
12
/

09
/

septembre
/

2012
08:10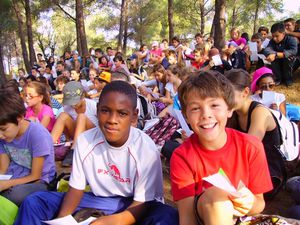 La matinée du vendredi 7 Septembre 2012 a démarré avec une rencontre dans la chapelle de l'Institution Sainte Marie de la Seyne sur Mer, coeur de notre établissement mariste, une occasion de s'imprégner de l'atmosphère qui y règne.
Après l'accueil, nos six classes de sixième, qui comptent 160 élèves, quittent l'Institution à pied pour la journée.
Objectif: savoir utiliser un plan détaillé pour rejoindre le Fort Napoléon, lieu stratégique pour son cadre ombragé et la beauté de son fort. C'est à côté des douves que le "camp de base" fut monté. Après quelques consignes sur le déroulement de la matinée, rien de tel que quelques instants pour donner de l'entrain. Puis les élèves se sont regroupés autour des enseignants et accompagnateurs pour rentrer dans le vif du sujet: apprendre de l'autre pour mieux le connaitre.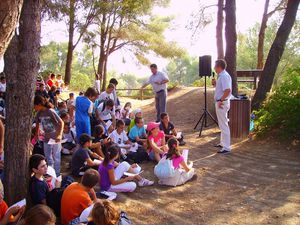 Puis, tout ce petit monde s'est retrouvé, enjoué, pour le moment tant attendu du repas! Un festin préparé par monsieur Alain Martinez et l'équipe de restauration qui permit à chacun de se ressourcer pour attaquer d'un bon pied la course d'orientation de l'après-midi. C'est donc par petits groupes qu'ils se sont croisés au détour des sentiers, guidés par un seul but, trouver les balises et répondre aux questions en privilégiant l'échange.
A 15h00, c'est autour d'un goûter "salvateur" et de bouteilles d'eau bien fraîches que l'après-midi a pris fin, chacun racontant avec enthousiasme les péripéties de cette aventure.
Merci à tous les acteurs qui ont permis que cette journée de cohésion puisse rassembler les jeunes et les adultes autour d'un même désir "Faisons connaissance".
L'équipe de l'Institution Sainte Marie la Seyne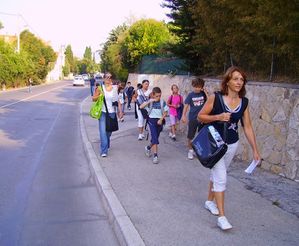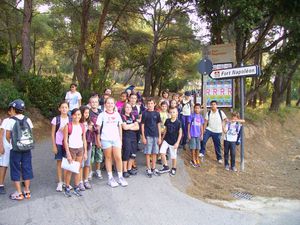 Friday September 7th 2012 begun in the morning with a meeting in the Chapel of Institution Sainte Marie la Seyne sur Mer, the heart of our Marist Educative Establishment, an occasion to feel the atmosphere of the school.
After the welcome, our six 1st form classes and their 160 pupîls began walking away from the Institution for the day trip.
Purpose:: To be able to use a detailed map to go to the Napoleon Fort, a strategic place because of the shade and the beauty of the Fort. The "base camp" was set up beside the moat. After a few instructions about the morning, there is nothing better but a few songs to be full of drive. Then, the pupils gathered around the teachers and accompanying adults to get to the heart of the matter: to learn from the other, in order to know him better.
Then, everybody got joyfully together for the so expected meal! A real feast prepared by Mr Alain Martinez and the school catering team to make everybody recharge his batteries for the orienteering race in the afternoon. And so, small groups of pupils met all along the afternoon, at the bend in the path, guided by the same purpose: to find the markers and to answer the questions while favouring discussion.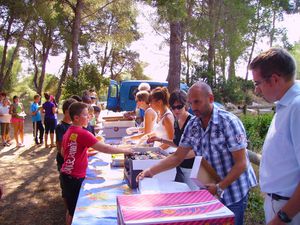 At 15:00, the afternoon ended with a "salutary" snack and cool water botttles, everyone telling with enthusiasm the various episodes of the adventure.
Great thanks to all the persons who made possible this day of cohesion between young and adults, around a same wish "let us know each other"
The team of Institution Sainte Marie la Seyne