11 septembre 2012
2
11
/

09
/

septembre
/

2012
14:29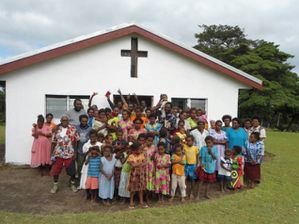 L'équipe pastorale de l'Institution Sainte Marie la Seyne a été très touchée par le message reçu du père Benedicto Manacen, père mariste à Lamlu. Les quelques lignes et photos témoignent d'une profonde reconnaissance et les magnifiques sourires de nos frères et soeurs d'Océanie nous poussent vers l'espérance et l'amour de nos prochains.
A travers ce message et ces photos, nous vous invitons à partager ce moment de bonheur.
Lettre du père Benedicto Manacen:
"Je prends donc ce temps pour dire sincèrement merci, également au nom de tous les anciens paroissiens de Lamlu, à tous nos bienfaiteurs en Europe, pour l'aide qui nous a permis de réaliser la rénovation du toit de l'église.
Cela fait quelque chose dans le coeur, quand on se sent aimé par des frères et soeurs qui nous sont proches par la même foi.
THANK YOU BIGWAN
Tous les paroissiens de Lamlu, mission sur l'île de Tanna, Vanuatu, vous remercient d'être auprès d'eux par le coeur, la pensée et la prière. Merci à tous nos bienfaiteurs qui par leur soutien, leurs efforts de générosité et de foi ont permis que la petite église soit rénovée, grâce à vous tous jeunes et adultes de l'Institution Ste Marie de la Seyne sur Mer (Sud de la France).
Père Benedicto Manacen sm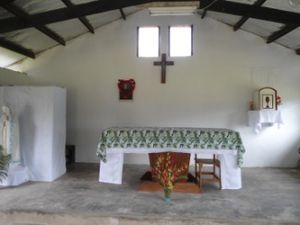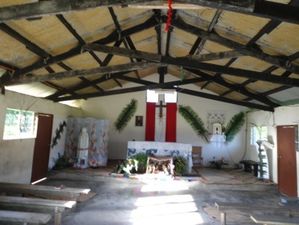 The Pastoral team of Institution Ste Marie la Seyne was deeply touched by the message received from Fr Benedicto Manacen, a Marist Father in Lamlu. The letter and pictures below show how grateful are our brothers and sisters from Oceani, and their marvelous smiles lead us to hope and love of our neighbours.
Through this message and these pictures, we invite you to share this moment of joy.
Letter from Fr Benedicto Manacen:
"I take that moment, also in the name of all the former parishioners of Lamlu, to sincerely thank all our benefactors in Europe, for their help to achieve the renovation of the roof of our church.
That is so nice to know that we have brothers and sisters close to us through the same faith.
THANK YOU BIGWAN
All the members of the Parish of Lamlu, a mission on Tanna Island, Vanuatu, thank you for being close to them through your heart, your thoughts and prayers. Great thanks to all our benefactors who, through their support , their generosity and faith, helped us to renovate our little church, thanks to all of you, young ones and adults from Institution Ste Marie la Seyne sur Mer (South of France).
Fr Benedicto Manacen sm"