9 janvier 2012
1
09
/

01
/

janvier
/

2012
09:32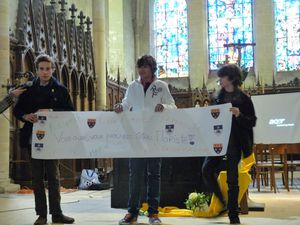 Le 8 Décembre dernier, St Vincent célébrait la fête de l'Immaculée Conception en honorant plus particulièrement cette année le thème de la lumière.
Lampions dans le cloître et belle crèche éclairée, décoration de la chapelle, en jaune éclatant avec des bougies, coeur lumineux en galerie...Nul ne pouvait ignorer que les valeurs maristes étaient à l'oeuvre, et surtout pas les secondes qui pour certains les découvraient. Un rendez-vous devenu incontournable pour le lycée dont l'organisation sera chaque année à remettre sur le métier.
Une évidence: le plaisir de chacun de se retrouver en communauté: nombreux parents d'élèves, enseignants, personnel, élèves!
Les voix multiples qui se sont élevées à la messe autour de Sara, professeur de SVT et chef de choeur en témoignent.
Sonia Monnier, CDI du lycée
On last December 8th, St Vincent celebrated the Immaculate Conception honouring more particularly this year the theme of light. Chinese lanterns in the cloister and a beautiful nativity scene with lights, decoration in the chapel, in bright yellow with candles, an illuminated heart in the galery...Nobody could ignore that Marist values were in action, and certainly not the fifth form students who maybe discovered them. An appointment now essential for the School and the organization of which will be re-invented every year.
Obviuosly, everyone is very happy to meet all the others: a great number of parents, teachers, staff, students!
During the mass, a lot of voices around Sara, a Biology teacher and Head of the choir...
From Sonia Monnier, CDI of the College