25 février 2013
1
25
/

02
/

février
/

2013
10:14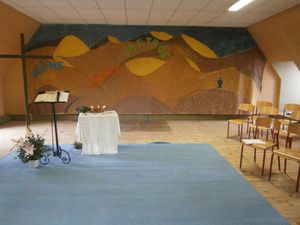 Dans la salle d'études du collège, transformée en chapelle, 300 élèves volontaires se sont r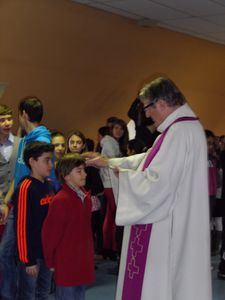 éunis pour célébrer les CENDRES en présence du père Vignancour, de M. Cleyet-Merle, directeur, des professeurs, des encadrants de la Pastorale et de quelques parents. Les collégiens de l'aumônerie avaient décoré la salle en peignant le désert sur une toile de 8 mètres de long.
Monsieur le directeur a accueili ses élèves en expliquant le décor "les déserts géographiques que les pèlerins aiment tant parcourir ont leur pendant dans notre vie de chaque jour. Le désert peut être psychologique ou spirituel, ne parle-t-on pas de "traversée du désert" pour évoquer des pérodes difficiles, solitaires, pleines d'amertume, mais ouvrant sur un temps nouveau?"
Le désert transforme, mûrit, il peut être la source d'un nouveau départ. Il peut être aussi propice à une rencontre. Ils sont nombreux ceux qui témoignent que cette rencontre est celle de Dieu...
Martine Aubignat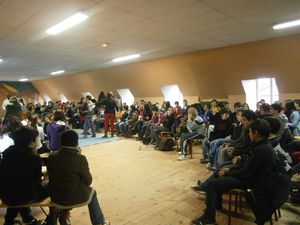 In the Study Room of the College, turned into a chapel, 300 voluntary pupils met together to celebrate Ash Wednesday, in the presence of Fr Vignancourt, of Mr Cleyet-Merle, Principal of the School, of teachers, of people in charge of Pastoral care, and in the presence of a few parents. The Students from the Chaplaincy had decorated the room with a painting of the desert on an 8 meters long canvas.
The Principal welcomed his pupils with explanations of the paintings " the geographical deserts pilgrims like so much have their counterpart in our everyday life. Wilderness can be psychological or spiritual, don't we speak of " time in the wilderness" to talk about difficult, lonely periods full of bitterness, but opening up to a new time?"
Desert changes, matures you, but it can be the source of a new departure. It can also be favourable to a meeting. Many persons testify that it is God they meet...
From Martine Aubignat