9 mai 2012
3
09
/

05
/

mai
/

2012
13:06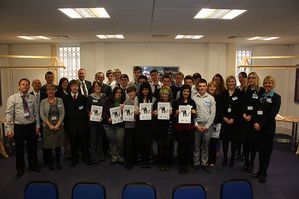 Une équipe de CUS (Dublin) est allée à Blackburn (Angleterre), au Collège St Mary où avait lieu le concours des "Jeunes Apprentis", au cours duquel 10 élèves de St Mary's College affrontaient 10 jeunes de "l'Année de Transition" de CUS (année de "fin de collège/ début de lycée" centrée sur la culture et l'épanouissement personnel des élèves).
L'évènement, sponsorisé par l'entreprenariat local, a eu lieu les 30 et 31 Mars derniers, sur le modèle du programme d'Alan Sugar.
Trois juges, observateurs officiels et créateurs professionnels, étaient sur place pour aider les étudiants dans leur tâche L'évènement a duré deux jours: le premier jour pour concevoir, cuire et vendre les gâteaux et le deuxième jour pour créer la marque du groupe, lui donner une identité propre à l'aide de CD, posters, T-shirts et de logos.
L'évènement a eu lieu dans le Centre Enterprise créé par LEGI et s'est achevé par un diner de gala le samedi soir au DunkenhalghHotel.
Le vainqueur de CUS fut Matthew Butler, et c'est Anisa Patel qui a remporté la victoire pour St Mary's Blackburn.
Les juges, qui venaient tous du monde de l'industrie, Mark Loma (Dr de Lomas Office Furniture), Ashley Williams (Chef de Marque de Barclays à Clitheroe), et Jenny Woodward (CEO de Paper Cup Company a Clitheroe) ont félicité Anisa pour son professionnalisme et son approche créative des tâches. Mtatthew quant à lui a été félicité pour ses capacités de "leader""l et son savoir-faire en matière de présentation, sa créativité et sa rapidité de réflexion quand les choses allaient mal en cuisine.
Sir Alan Sugar, Alastair Campbell, le Prince Charles et le Duc d'Edimbourg ont tous envoyé des messages de bonne chance au Collège.
D'après M.McCarthy (CUS)
CUS travelled to Blackburn where St.Mary's College hosted their very own Young Apprentice competition where 10 SMC students competed against 10 of our transition year students. The event, sponsored by local businesses took place on Friday 30th and Saturday 31st March following the format of Alan Sugar's own Young Apprentice programme. Three judges, official observers and professional designers were on hand to aid the students in their tasks. The event involved two full-day tasks: the first to devise, bake and sell cakes and the second to "Brand the Band", giving a band their own identity using cds, posters, t-shirts and logo designs.
The event took place in their LEGI funded Enterprise Centre and culminated in a Gala Dinner on the Saturday evening at the Dunkenhalgh Hotel.
Matthew Butler was the overall winner from CUS, and Anisa Patel was the overall winner for St Mary's, Blackburn.
The judges, all from industry: Mark Lomas, Director of Lomas Office Furniture, Ashley Williams Brand Manager of Barclays in Clitheroe and Jenny Woodward, CEO of the Paper Cup Company in Clitheroe, praised Anisa for her calm professionalism and creative approach to the tasks. They praised Matthew for his leadership and presentation skills, creativity and fast thinking when things went wrong in the kitchen.
Sir Alan Sugar, Alastair Campbell, Prince Charles and the Duke of Edinburgh all sent good luck messages to the College.
From M.McCarthy (CUS)