29 octobre 2012
1
29
/

10
/

octobre
/

2012
15:56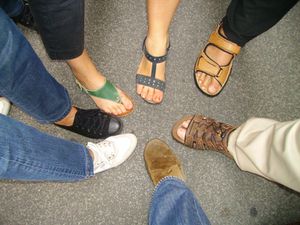 Le 24 Septembre 2012, devant le portail de l'Institution Sainte Marie de la Seyne sur Mer, nous étions 5 animateurs d'aumônerie à suivre le père Luigi Savoldelli et Jocelyne Blonce, responsable de l'aumônerie de l'ISM, pour nous rendre à Rome, marcher sur les traces du père Jean-Claude Colin, découvrir son parcours, nous remplir de ses projets, de sa spiritualité.
Le sourire de chacun était au rendez-vous et nous étions motivés!
860 kms en mini-bus, puis une installation rapide à Roma Scout Center, la messe à Santa Francesca Cabrini, paroisse des pères maristes, où nous avons eu un accueil très chaleureux!
Tôt le lendemain matin, nous nous dirigeons en bus vers la Maison Générale des pères maristes...Sous le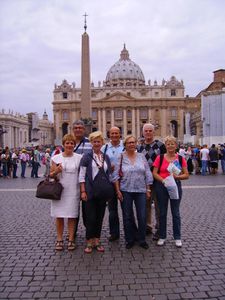 porche, le père Justin Taylor nous accueille.
Un échange avec les pères, un temps de questions et le père Craig Larkin nous propose de découvrir l'icône de Jean-Claude Colin réalisée en 2010 par un néo-zélandais. Puis, le père Justin Taylor nous prend en charge et nous retrace les 4 grands moments de la vie du père Colin: les années formation, les années d'ascension (1823-1839), les années de pleine carrière où JC Colin gouverne la Société de Marie, et les années de retraite à la Neylière.
Ce fut un éclairage riche donné par le père Taylor!
Puis, nous nous rendons en bus au collège San Giovanni Evangelista, où nous sommes accueillis par le directeur Francesco Loreti, laïc mariste, accompagné des pères maristes de la communauté autour d'un goûter convivial.
Le mercredi matin, départ vers la place St Pierre pour l'audience du Pape, qui nous parle de la liturgie, du service en faveur du peuple.
Puis ce fut un temps de visite le jeudi: les catacombes le matin, la basilique St Pierre l'après midi, suivi de la communauté San Egidio le dernier soir...
Enfin, départ très tôt le vendredi matin pout Toulon avec 180 tunnels à franchir!
Merci à tous, à Luigi et à Jocelyne pour ce temps "dans les pas de Jean-Claude Colin"!
D'après Annette Macquet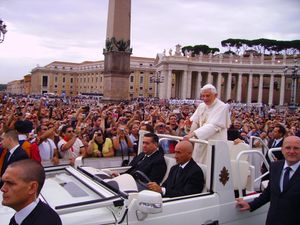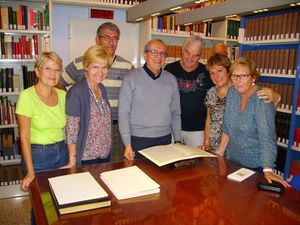 On September 24th 2012, in front of Institution Sainte Marie la Seyne sur Mer, we were 5 animators in RE with Fr Luigi Savoldelli and Jocelyne Blonce, Chaplain of ISM College, ready to go to Rome on the footsteps of Fr Jean-Claude Colin, to discover his life and spirituality, to understand his projects.
We were motivated and cheerful!
860 kms in a minivan, then a quick moment to see our accomodation at Roma Scour Center, a mass at Santa Francesca Cabrini, the parish of Marist Fathers where we were friendly welcomed.
Early in the morning the day after, we were driven to the Marist Fathers' General House; In front of the door, Fr Justin Taylor welcomes us...
A chat with the Fathers, a moment to ask questions and Fr Craig Larkin proposes to make us disc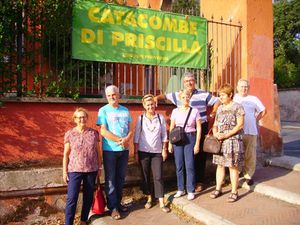 over Jean-Claude Colin's icon created by a New Zelander in 2010. Then ,we were taken on by Fr Justin Taylor who explained us the 4 main moments in JC Colin's life: years of formation, years of creation of the Society of Mary (1823-1839), years to govern the SM, and years of the retreat in la Neylière.
We had a very rich speech by Fr Justin Taylor!
Then, we took a bus to go to Istituto San Giovanni Evangelista, where the Principal Mr Francesco Loreti welcomed us together with the fathers from the Marist Community and where we were offered a nice afternoon snack.
On Wednesday morning, departure to St Peter's Place for the Pope's audience. Benedict XVI talked about liturgy, about the service of the people.
Then, we had time to visit: the Catacombs on Thursday morning, St Peter's Basilica in the afternoon, and at the end of that day, we met the Community San Egidio: a marvelous welcome!
And, arrived the last day: we left early in the morning to go back to Toulon, after going through 180 tunnels....
Great thanks to everybody, to Luigi and to Jocelyne for that marvelous moment on the "footsteps of Jean-Claude Colin"!
From Annette Macquet