26 mars 2013
2
26
/

03
/

mars
/

2013
14:51
Un groupe de 15 élèves du MGF (MaristenGymnasium de Fürstenzell) a passé une semaine chez ses correspondants du Cours Fénelon de Toulon (ceux qui étaient déjà venus en Bavière en Décembre dernier).
Chaque matin, les allemands allaient en cours avec les français, et sur le temps de l'après-midi, Mme Marguerite Biagi, responsable de l'échange franco-allemand, avait organisé un programme culturel et touristique: on a vu le musée de la marine de la ville où nous avons appris beaucoup de choses sur la position de Toulon comme "capitale" de la marine française en Méditerranée; on a fait une promenade en bateau sur la mer, ainsi que du shopping dans la vieille ville.
Mais le grand moment, ce fut l'excursion à Grasse, la capitale du parfum, où l'on a visité la parfumerie Fragonard (un bon parfumeur sait reconnaitre 3000 essences différentes!!) ainsi que le musée du parfum.
Je n'ai pu que constater que c'était "un programme vraiment bien organisé!"
Avec cet échange, qui existe maintenant depuis trois ans, les deux établissements maristes ont bien su tirer profit des derniers Forums maristes européens; Cet échange en est le résultat!
Erwin Gierl, professseur de français et responsable de l'échange pour MGF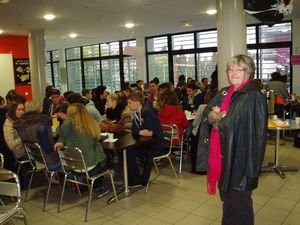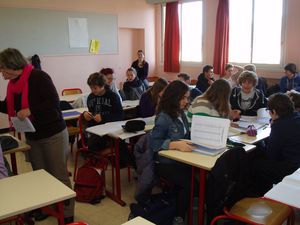 A group of 15 students from MGF (MaristenGymnasium Fürstenzell) spent one week with their penfriends at Cours Fénelon in Toulon (those who already visited Bavaria last December).
Every morning, the German students used to accompany their French friends at school, and for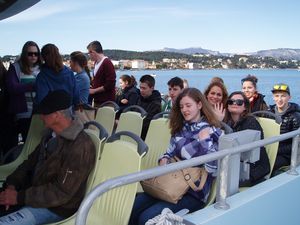 the afternoon, Mrs Marguerite Biagi, in charge of the French-German exchange, had organized a cultural and tourist programme: we saw the Town Museum of the Navy where we learnt a lot of things about the position of Toulon as "Capital" of the French Mediterranean Navy; we went for a sail on the sea, and we had shopping in the old town.
But the big moment was the trip to Grasse, the perfume capital, where we visited the Fragonard Perfumery (a good perfumer can recognize 3000 different smells!!) and the Museum of perfumes.
I could only say that " it was a really well organized programme!"
With this exchange, that has been existing for 3 years now, both Marist Schools perfectly benefited from the last European Marist Forums; whose result it is.
From Erwin Gierl, French Teacher and in charge of the exchange for MGF