14 juin 2011
2
14
/

06
/

juin
/

2011
10:10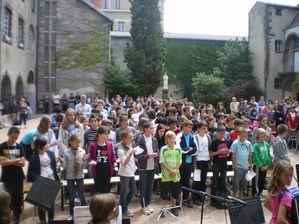 La célébration de fin d'année de l'Institution Sainte Marie de Riom (France) a eu lieu en plein air sous les cloîtres de l'école, où 350 personnes étaient réunies, élèves, professeurs volotaires et parents, le 7 Juin dernier.
Ce fut une belle célébration de la parole, au cours de laquelle des élèves de 6ème et de Terminale ont pu témoigner de leur façon de se mettre à l'écoute de Dieu dans leur vie. Les chants et les temps de silence ont permis de vivre un grand moment de recueillement et de communion : l'assemblée ne formait qu'un seul corps, elle était Eglise.
Un très beau triptyque, réalisé en aumônerie, résumait le thème du Projet Pastoral de l'année "Enracinés et fondés en Christ, affermis dans la foi", et venait illustrer ce moment de partage: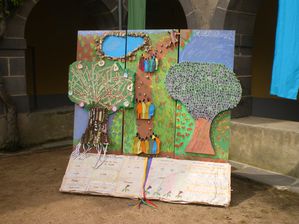 • Un premier volet, réalisé pour le 8 Décembre, représentant un arbre, sur lequel étaient inscrits les noms de ceux qui nous guident dans la foi, et dont les branches étaient constituées des prénoms de tous les élèves de Sainte Marie ,
• un deuxième volet, présenté le Jeudi Saint, annonçant "Tous en chemin à la suite de Jésus",
• et un troisième volet couvert des visages de tous les élèves de l'établissement.
The last celebration of the school year in Sainte Marie Institute in Riom (France) took place on June 7th, in the open-air within the cloisters of the school, and gathered 350 people, pupils, teachers and parents.
It was a very nice celebration of the Word of God, during which from the youngest to the oldest students could bear witness to their way of bringing God into their lives. Songs and periods of silence made possible great moments of meditation and of communion : The assembly formed one body, the Church!
A very beautiful triptych put together during the time in the Chaplaincy, a summary of this year's Pastoral theme "Firmly rooted in and built on Jesus Christ in the faith".
The first panel, created for December 8th, represents a tree on which is written the names of our faith guides and and the branches are formed by all the Christian names of the students of Ste Marie,

The second panel, presented on the Holy Thursday states "Everyone on the path following Jesus",

The final and third panel is covered with the faces of qll the students in the school