21 juin 2011
2
21
/

06
/

juin
/

2011
09:48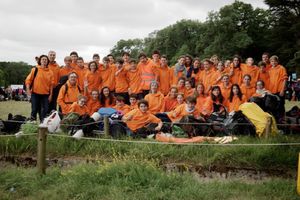 Par Rafael Ramila sm aumônier:
"Pour vivre le FRAT de Jambville, organisé pour les collègiens des aumôneries des diocèses de l'Ile de France, nous sommes partis en bus depuis Londres: nous étions 42 collégiens et 8 animateurs (dont je faisais partie).
A Jambville, nous étions dans le village "Europeville" avec d'autres aumôneries du diocèse de Paris, où nous avions presque 600 jeunes! Il y avait des activités de village: veillée d'accueil, messe, repas, veillée festive, quelques jeux et le sacrement du pardon...
Les 11000 jeunes rassemblés à Jambville étaient réunis au moins une fois par jour sous un grand chapiteau, où l'animation était assurée par le groupe musical Glorious. Ce groupe a entrainé d'une manière fantastique tous ces jeunes vers la louange et le témoignage, notamment au cours d'une messe mémorable le dimanche de la Pentecôte (messe présidée par Mgr André Vingt-Trois, 7 évêques et quelques 200 prêtres...)
Notre groupe londonien a bien tenu sa place par sa belle participation, sa joie et l'ouverture aux autres aumôneries...
Nous sommes rentrés trés fatigués mais extrêmement heureux de ces trois jours de partage! l'Eglise est jeune et pleine d'avenir!
Notre prochain rendez vous: La Vecilla et Madrid!"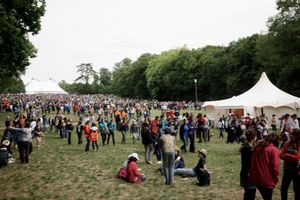 By Rafael Ramila sm Chaplain:
"To live the Jambville FRAT organized for the Ile de France diocese chaplaincies, we took a bus from London: we were 42 young boys and girls from the Secondary School and 8 adults (I was in the group).
In Jambville (a small town in the West of the Parisian region), we were in the "Europeville" village with other chaplaincies from Paris: there were almost 600 young boys and girls in our village! We had different activities: welcome evening, mass, meals, festive evenings, games and the forgiveness Celebration.
The 11000 young people gathered in Jambville used to meet together at last once a day under a huge top, with the "Glorious" musical group in charge of songs and music. This group wonderfully led all these young ones to praise and testimony, particularly during an unforgettable mass on the Pentecost Sunday ( a mass with Mgr André Vingt-Trois, Archbishop of Paris, 7 Bishops and almost 200 Priests...)
Our London group held his own by his good participation, by his happiness and his opening to the other chaplaincies...
We went back home exhausted, but extremely happy with these three days ! The Church is young and up-and-coming!
Our next rendez-vous: La Vecilla and Madrid!"